The local Moffat legend has it that it is William Brodie the sculptor of the Moffat Ram that haunts the Annandale Arms Hotel which stands opposite. It is not the Ram that is haunted. It is purported that Brodie committed suicide by hanging while staying at the hotel. William Colvin had commissioned the sculpture and ordered a grand unveiling ceremony. A local farmer pointed out that the smart new ram "Had nae lugs" and indeed the Moffat Ram has no ears. This omission proved too much for Brodie and he is said to wander the corridors of the Annandale Arms on an eternal search for the "lugs".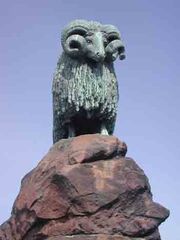 The Moffat Ram is a sculpture in the town centre of Moffat. Annandale, Scotland. It is the symbol of the towns rich history of sheep rearing. It stands in the centre of the towns Broadway on top of a sandstone tower. It was a gift to the town from businessman William Colvin, and it is his ghost who is credited with the tapping sounds often heard coming from the statue.
p|
}}
Ad blocker interference detected!
Wikia is a free-to-use site that makes money from advertising. We have a modified experience for viewers using ad blockers

Wikia is not accessible if you've made further modifications. Remove the custom ad blocker rule(s) and the page will load as expected.