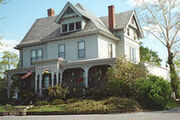 Inn 422, located in Lebanon of Pennsylvania, United States, is a small 'Bed and Breakfast', and restaurant that was built in the early 1800's by a family known as the Coleman family, who had immigrated from England. They were a large family with nine sons and five daughters, Robert and Ann Coleman (the parents), built the inn as a homestead for there daughter, Anne. As a graduation gift, (As she had recently graduated from Dickinson's College, where her father worked). Anne is said to be the host spirit of the building.
Anne Coleman
Edit
Anne Coleman, the woman who lived in 422 with her parents, Robert and Ann. Anne had set up a law practice in Lebanon. This, along with her fathers profession and connections, had made them the richest family in Lebanon.
During her work, Anne met a young man named James Buchannan, A poor son of two northern Irish immigrants. Anne fell in love with Buchannan and they soon became engaged. However. Anne's parents did not approve of this, especially not Robert. James was low class in Dickinson's Collage. Robert had recently expelled James Buchannan from the college. After some investigation, he discovered that James was in fact conning the law practice by being a member of both the Lebanon law practice and the Lancaster law practice.
Robert told this to his daughter, but by this point, Anne no longer cared. She was already engaged to James and was insisting on getting married to him. Robert then started to hear rumors that James planned to marry his daughter, steal the Family Fortune, and then run away. Robert Coleman confronted her daughter at the Inn 422. This resulted in a massive argument. Robert forced his daughter to break off the engagement to James.
Heartbroken, Anne ran away to her sister and uncle's house, where she committed suicide a month later by overdosing on laudanum.
Anne's ghost is said to haunt the Inn 422. Though the current owners insist that it is a 'Grace'. The ghost is completely harmless. The spirit often blows out candles or opens and closes doors. The spirit sometimes even helps the inn's staff by cleaning up or re-making beds. There has never been a full apparition of Anne, but you can hear footsteps and sometimes here mumbled words.
The irony of this story however is this: James Buchannan, who's in-laws would not allow their daughter to marry because he was 'Too Crass' went on to become a congressman for Pennsylvania, then the foreign minister to Russia and eventually the president of the United States. He never forgot Anne Coleman and swore that he would never have any relationship with any other women again. He kept his promise.
Ad blocker interference detected!
Wikia is a free-to-use site that makes money from advertising. We have a modified experience for viewers using ad blockers

Wikia is not accessible if you've made further modifications. Remove the custom ad blocker rule(s) and the page will load as expected.