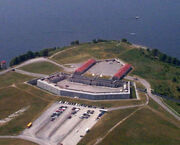 Fort Henry (also known as Fort Henry National Historic Site) is located in Kingston, Ontario, Canada on Point Henry, a strategic, elevated point near the mouth of the Cataraqui River where it flows into the St. Lawrence River at the east end of Lake Ontario.
The original fort was constructed during the War of 1812 to protect the Kingston Royal Naval Dockyard (the site of the present-day Royal Military College of Canada) on Point Frederick from a possible American attack during the war and to monitor maritime traffic on the St. Lawrence River and Lake Ontario.[1] The original fort was replaced by a much larger construction in the 1830s to maintain protection of the naval dockyard and protect the southern entrance to the Rideau Canal. The fort was restored in the 1930s and is a significant tourist attraction. ==John 'Gunner' Smith== 1837 during the war and was sentenced to death then hung with 6 of his men and they say you see a man in blue wondering the fort at night
Ad blocker interference detected!
Wikia is a free-to-use site that makes money from advertising. We have a modified experience for viewers using ad blockers

Wikia is not accessible if you've made further modifications. Remove the custom ad blocker rule(s) and the page will load as expected.