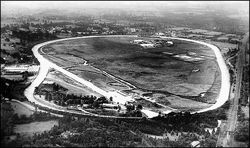 Brooklands Race Track in Surrey, England was a race track which was opened in 1907 and held motor races until 1939, when it was shut down and turned into Brooklands Aerodrome when WWII broke out. The race track was partially demolished for the aerodrome and now houses stand on the demolished parts.
Ghosts of Brooklands
Edit
Brooklands is said to be the home of a ghost of an old-style racing driver. According to accounts he is said to wear full racing gear, including googles and a leather helmet.
The ghost of a racing driver is not the only paranormal activity on the old racing track, there are stories of an old racing car can be heard hurtling down a section of the track called the Railway Straight, these stories were told by workers of a factory which was built on the Railway straight.
Ad blocker interference detected!
Wikia is a free-to-use site that makes money from advertising. We have a modified experience for viewers using ad blockers

Wikia is not accessible if you've made further modifications. Remove the custom ad blocker rule(s) and the page will load as expected.